Why Microsoft?
We improve the lives of business system users to enable them to add more value within their businesses using a Microsoft enterprise resource planning system. We do that by making smart use of technology and providing great service.
Smart use: We strive to deliver solutions that are well architected and easy to use.
Which technology: We deliver solutions based on Microsoft technologies.
Great service: We have great people and strength in depth. We're refreshingly honest and very direct.
Individually Microsoft has products that are #1 or #2 in each of these categories. In combination Azure, Power Apps, Dynamics 365, Power BI, and Office/Teams make Microsoft's offer unique – and save our customers money.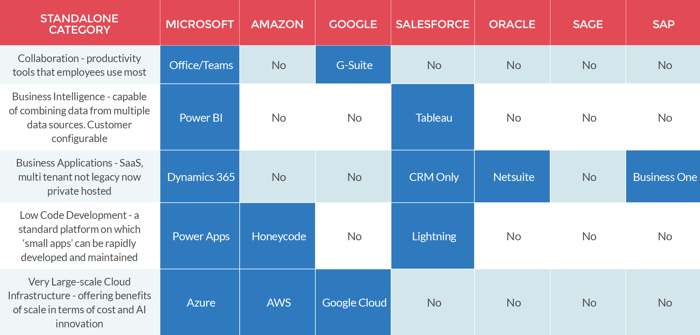 How so?
User experience: Microsoft products have a similar look and feel. This accelerates user adoption.
Integration: Microsoft provides this 'out-of-the-box'. That means we don't have to build it – which reduces the number of days it takes us to deploy solutions.
Skills availability: Lots of people know each of these products. Access to a big talent pool has an impact on our salary costs – which has an impact on the rates we charge.
There's another significant factor that we want to be transparent about - we've been lucky. We backed a winner. Navision became Dynamics NAV which became Dynamics 365 Business Central. As a result, the skills and experience we've gained over 30 years are still very relevant. We've not got many small groups of people focused on different ERP solutions. We've got a big team that gives our people colleagues to learn from, career progression and the ability to deliver great service to customers.